5 Reasons Edmonds is a Great Place to Raise a Family
Posted by Mike Novak on Saturday, September 9, 2023 at 9:28:48 PM
By Mike Novak / September 9, 2023
Comment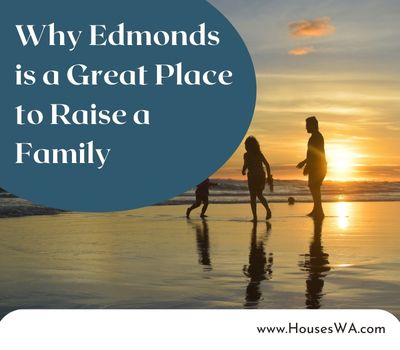 Nestled on the shores of Puget Sound, Edmonds is a charming and picturesque city that has gained recognition as one of the best places to raise a family in the Pacific Northwest. Its welcoming community, top-notch schools, abundant outdoor recreational opportunities, and vibrant cultural scene make it an ideal destination for those looking to provide a nurturing and enriching environment for their children.
To find homes for sale in Edmonds or learn more about the local real estate market, contact us any time, and keep reading for 5 reasons people are choosing to raise their families in Edmonds.
1. Top Notch Schools
Edmonds is renowned for its excellent educational institutions, making it a top choice for families with school-aged children. The Edmonds School District is known for its commitment to academic excellence and includes a variety of highly rated public elementary, middle, and high schools, ensuring that students receive a high-quality education. Edmonds is also home to several private schools, offering diverse educational approaches and religious affiliations to cater to different family preferences.
Even families with adult children can benefit from the academic excellence in the area. Located within driving distance of Edmonds are renowned institutions like the University of Washington and Seattle Pacific University, providing excellent opportunities for higher education not far from home.
2. Proximity to Outdoor Recreation
The Pacific Northwest in general is known for gorgeous outdoor recreation with year round opportunities to enjoy the scenic setting, and Edmonds is no exception. The breathtaking natural surroundings and proximity to outdoor recreational opportunities make it an ideal place for families who appreciate the great outdoors.
Residents enjoy easy access to Puget Sound, with scenic beaches and opportunities for boating, fishing, and beachcombing. Nearby forests and trails like the 12-acre Yost Park and the scenic Japanese Gulch Loop Trail provide hiking and nature exploration opportunities suitable for all ages. In the winter, families can reach the popular ski and snowboarding destinations of the Cascade Mountains within a reasonable drive.
3. Culture and the Arts
Edmonds may be a small city, but it boasts a vibrant cultural scene that caters to families. Edmonds Center for the Arts hosts a variety of family-friendly performances, including theater productions, music concerts, and dance recitals, and Edmonds is also home to art galleries and museums that offer educational and cultural experiences for children and adults alike.
Throughout the year, the city hosts community events like festivals, parades, and markets, providing entertainment and opportunities for family bonding. It's easy to expose your children to a variety of cultural experiences living in Edmonds.
4. Diverse Restaurant Scene
Many parents are looking for a place that has the charm of a small town without sacrificing the perks of a larger city, like a long list of great restaurants to try. Edmonds offers a diverse culinary scene that can satisfy the palates of both parents and children.
Numerous restaurants in Edmonds cater to families with kid-friendly menus, play areas, and outdoor seating. There is also the Edmonds Farmers' Market, a great place for families to explore fresh, locally sourced foods and enjoy the vibrant community atmosphere.
5. Tight-Knit Community
One of the standout features of Edmonds is its strong sense of community, which contributes to a high quality of life for families. With many families already a part of the Edmonds community, it is easy to find other people to become a part of your "village." Families can find support through local parent groups, community organizations, and social clubs and regular community events and festivals foster a sense of belonging, providing opportunities for families to create lasting memories together.
Ready to learn more about homes for sale in Edmonds? Contact us any time.