Is Everett a Good Place to Raise a Family?
Posted by Mike Novak on Friday, November 10, 2023 at 1:33:47 PM
By Mike Novak / November 10, 2023
Comment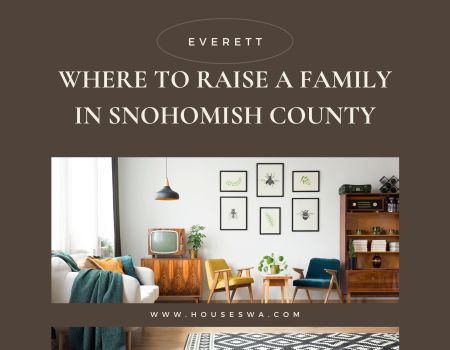 Selecting the place you will settle down and raise a family is a multifaceted decision. You have to take into account a long list of factors, many of them unique to you and your needs, values, and goals. If living in Everett is on your list of potential places to raise a family, this post is for you. There are quite a few reasons that residents of Everett enjoy calling this town home, and we've got some of them listed out for you below.
If you would like to learn more about houses for sale in Everett, or how to offset affordability challenges in the desirable Everett housing market, contact us any time.
Education
Families living in Everett are served by Everett Public School District. The district has a great local reputation and there are many schools within walking distance of popular residential communities.
If you prefer a private education, there are also plenty of choices in the area. Private schools near Everett include religious choices, prep schools, performing arts academies, and more.
Things to Do
Everett offers a variety of family-friendly activities and attractions for kids. These are just a few of our favorites:
Explore the Imagine Children's Museum, a hands-on and interactive museum designed for children. It features exhibits that encourage creativity, exploration, and learning through play.
During the summer months, take a short ferry ride to Jetty Island. This sandy island offers a beach environment where families can enjoy picnics, kite flying, sandcastle building, and shallow water play.

Visit Forest Park, the city's largest public park. It has playgrounds, sports fields, walking trails, and a spray park during the summer months.

If your kids are interested in aviation, explore the Future of Flight Aviation Center. The center offers interactive exhibits, and you can also take a tour of the Boeing assembly plant to see jets being assembled.
Catch a minor league baseball game at Funko Field, home to the Everett AquaSox. It's a family-friendly venue where kids can enjoy the excitement of a baseball game in a low key environment.
Explore Spencer Island Park, a nature reserve with walking trails and opportunities for birdwatching.
Check the schedule at the Historic Everett Theatre for family-friendly performances and events. From live shows to classic movies, it's a great venue for entertainment suitable for all ages.
Climate
The Pacific Northwest is known for its mild, maritime climate. Winters are cool and wet, with temperatures ranging from the mid-30s to mid-40s Fahrenheit. Summers are mild and dry, with temperatures typically in the 60s and 70s Fahrenheit. The region is known for its overcast and rainy days, especially during the fall and winter months.
In Everett, you will enjoy all four seasons but without extreme heat or snowstorms. For many families, this part of the country strikes a best of both worlds balance that allows them to enjoy the changing seasons without the inconveniences of major weather.
Healthcare
Everett is home to several healthcare facilities, including Providence Regional Medical Center Everett. This medical center is a major regional hospital providing a range of medical services. Additionally, there are various clinics, specialized healthcare providers, and wellness centers serving the community. Access to healthcare in Everett is generally good, and residents can find a variety of medical services within the city.
We find that for many of our clients looking to raise a family in Everett, there is a peace of mind that comes with knowing there are all the medical experts they might need just minutes from home.
Real Estate
Homes for sale in Everett are diverse. Everything from new construction developments to affordable condos and duplexes to historic homes can be found in this desirable market. We can help you find the best neighborhoods in Everett for your family's budget and preferences, and we are here to help every step of the way as you find your ideal new home.
Ready to learn more about living in Everett? Contact us any time.